5W Smart LED Solar&lnductive Wall Light Black
Short Description:
5W Smart LED Solar&lnductive Wall Light
◆Model:GS-BD-5Wc
◆Product brand:GS
◆ LED Brand:Epistar
◆Motion angle/Distance: 120°/0-8M
◆Battery:3.2V/3000mah lithium battery
◆Lighting Time:8 hours
◆Solar Panel:2.5W Polycrystalline Silicon
◆Luminous Efficiency:100lm/W
◆CCT:4000K 6000K
Min.Order Quantity: 600 Piece/Pieces
Supply Ability: 10000 Piece/Pieces per Month
Port: Shenzhen
Payment Terms: L/C,D/A,D/P,T/T,Western Union,MoneyGram,paypal
:
Product Detail
Installation
Application
Product Details
Product Tags
SPECIFICATIONS
LEDBrand:      Epistar                                                      LightColor:     CoolWhite,NaturalWhite
LED Type:        COB LED                                                 CCT:                                    4000K 6000K
LED QTY:         2pcs COB+3pcs SMD                              Lumens:                             500LM
Size:                210x116x80mm                                         Motion angle/Distance:    120°/0-8M
Material:           ABS                                                          CRI:                                     Ra≥80
Watt:                5W                                                             Working Temperature:     -40℃~65℃
Battery:            3.2V/3000mahlithiumbattery                     WorkingHumidity:           (20~90)%RH
Lighting Time: 8 hours                                                     Storage Temperature:      -40℃~85℃
Solar Panel:     2.5W Polycrystalline Silicon                     Storage Humidity:            (10~90)%RH
DIMENSIONS

LUMINOUS INTENSITY DISTRIBUTION DIAGRAM
Model No:GS-BD-5Wc                         -0.5M:79 LUX                     -1M:42 LUX                        -1.5M: 25 LUX
CHARACTERISTICS
•Patent design, smart,beauty,integrated conception, create more convenience for users.
•Unique Curved Appearance, Simplify and Beautiful. Compact Structure design, Durable. Easy install, waterproof and dust proof.
•Adopt High Quality Polycrystal Silicon Solar Panel, High Conversion Solar Photoelectricity, high energy tans-action rate, long lifespan  more than 20 years.
•Use the new generation COB LED as Light Source, with the features of high brightness,  low light decay, long lifespan.
•High performance lithium battery, bigger capacity brings longer lifespan.
•Scientific human induction design, wide angle detection way, makes the body movement detection in large angle and longer distance.
ADVANTAGE
Quality assurance:All the products will go through 5 checks during production,raw material check,
Lights beads check,aluminum plate check,power supply check and the finished products 48 hours test.
Warranty:Two years warranty,the broken lights will be replaced and the new lights will be sent to you
together with your next order.
Competitive production capacity: monthly production more than 100,000 pcs bulbs or other lights
Manufactuer's price:Factory direct sale,competitive price.
APPLICATIONS

Widely used in gates,courtyards,walls,and any other place where with plenty of sunlight. It can be applied to lighting and decoration at night.
CERTIFICATE
Previous:
INSTALLATION INSTRUCTIONS
1. Drill 2 holes of Φ6mm at the requested place, keep 118mm distance between the 2 holes,2~4m
height from ground.
2. Fix two expansion plugs into the hole.
3. Fix a screw to the lower expansion plug with a little spare space, insert the stripe groove
into the screw groove and fixed.
4. Straighten the whole light and fasten the screw strictly.
5. Switch on the whole system by the provided unlock pin.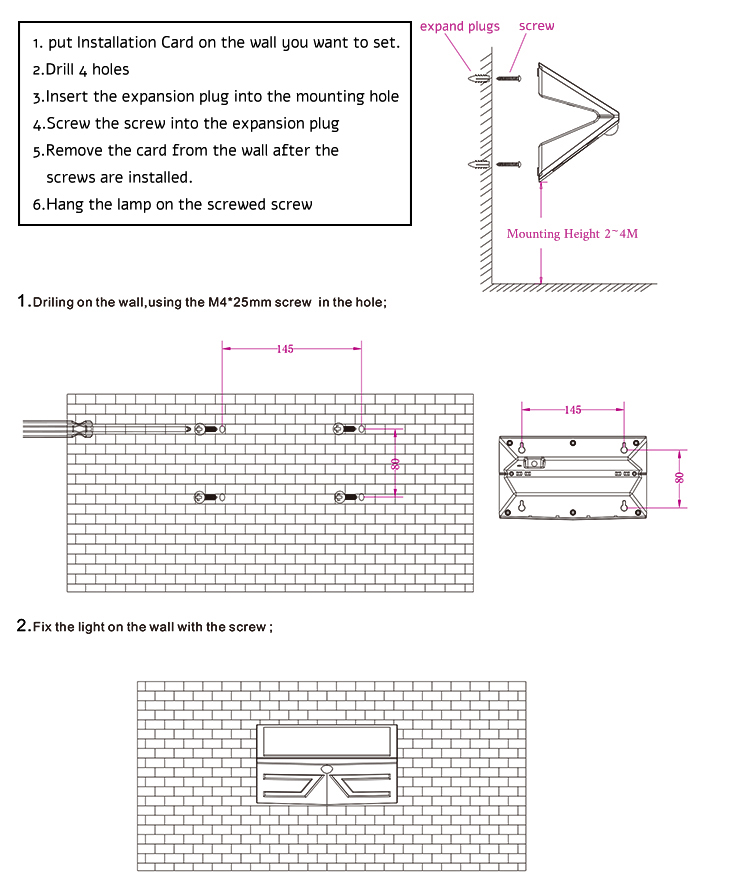 Notes
N o light when no motion for the mian-light.Press the button one time,the main light will burn when people iscoming,last for 15s,the back lights will turn into blue light,last for 1min .
The product is equipped with an internal lithium battery,please do not avoid explosion.
Please understand that lighting time depends on sunshine duration and weather.
Press the button four times, the main lights will burn when people is coming,last for 15sThe back lights willchange light be between blue,red and green,last for 1min.Press the button over 3s,the light turn off.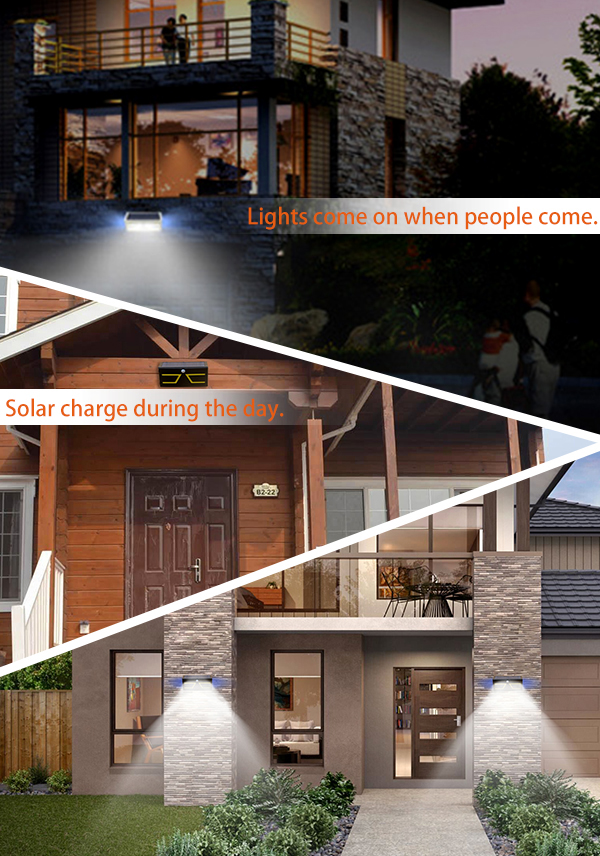 Send your message to us: